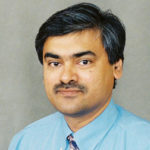 Uday Vaidya
Advanced Composites Manufacturing
Appointed 2015
Uday Vaidya is an expert on the manufacturing and use of fiber reinforced thermoplastic composites.
His research focuses on developing applications for thermoplastics in the military, the housing market, the health care industry, and commercial transportation.
Vaidya holds joint appointments in UT's Department of Mechanical, Aerospace, and Biomedical Engineering and at Oak Ridge National Laboratory.
He is also interested in engaging minority and underrepresented students in STEM fields and advanced manufacturing technologies.
Email
UT uvaidya@utk.edu
ORNL vaidyauk@ornl.gov
Phone
UT 865-974-7620
ORNL 865-946-3096
Address
UT
408 Dougherty Engineering Building
1512 Middle Drive
Knoxville, TN 37996-2210