About the UT-Oak Ridge Innovation Institute
The University of Tennessee-Oak Ridge Innovation Institute was launched by the University of Tennessee and Oak Ridge National Laboratory in 2021, in response to  America's need for a stronger pool of science, technology, engineering and mathematics (STEM) talent.
UT-ORII is leveraging UT and ORNL's best capabilities and resources to accelerate collaborative discovery, innovation and interdisciplinary graduate education; and to prepare the next generation of talent in areas of critical importance to the nation and the State of Tennessee. The institute's current convergent research areas include clean manufacturing and advanced materials, and energy storage and transportation.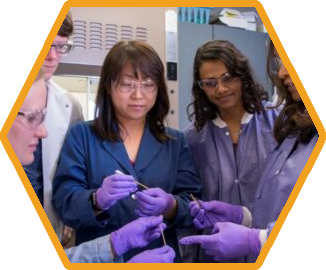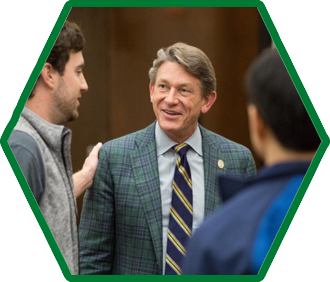 "Our ability to effectively leverage our nation's largest science and energy laboratory will enable us to deliver a robust pipeline of talent in emerging fields for industry, government and academia."

Randy Boyd
University of Tennessee System President
Mission
To strategically align the expertise and infrastructure of the University of Tennessee and Oak Ridge National Laboratory to usher in world-class interdisciplinary research and graduate education.
Vision
To become the coveted home for convergent research and talent development, helping maintain U.S. prominence as a global innovation leader and provide tangible impact to Tennessee.
To achieve our mission, UT-ORII is building upon a 75-year partnership between UT and ORNL.  The Institute represents a new way of thinking about the UT-ORNL relationship and brings people, infrastructure and collaborative opportunities together in new ways to dramatically increase and accelerate the impact of this long-standing partnership.
"Growing innovation across the state requires collaboration that leverages the strengths of our institutions. By ensuring a stronger bond between UT and ORNL, UT-ORII is developing a highly skilled workforce to attract new industry and delivering research results that will bolster Tennessee's scientific ecosystem."

Jeff Smith
Interim ORNL Director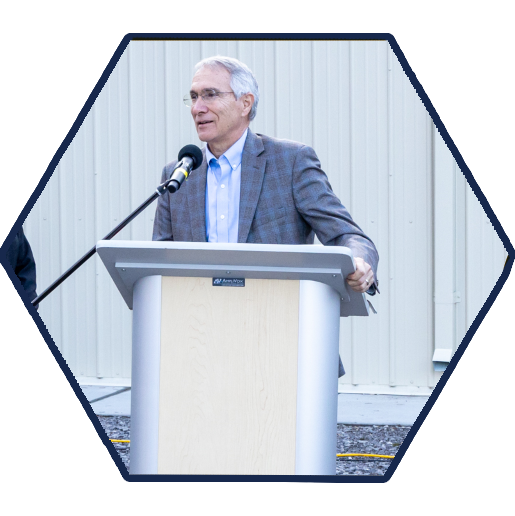 Governance
UT-ORII is directed by an Executive Council composed of leaders from UT Knoxville, UT Health Science Center and ORNL. These positions are currently held by Donde Plowman, UT Knoxville chancellor; Peter Buckley, UTHSC chancellor; Jeff Smith, Interim ORNL director; and Susan Hubbard, ORNL deputy for Science and Technology. UT System President Randy Boyd serves in an advisory role to the executive council.
UT-ORII is also advised by external and internal (UT and ORNL) committees.
UT-ORII's goals are for Tennessee to be known worldwide as a hub for talent and discovery; and to create a model that the U.S. Department of Energy can replicate nationally for joint research and innovation, interdisciplinary education and workforce development focused on these and other areas of greatest national importance:
Clean manufacturing & advanced materials
Energy storage & transportation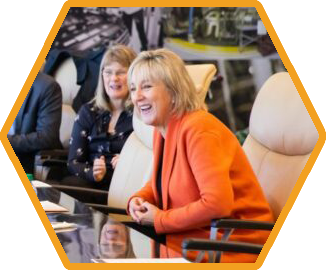 "The University of Tennessee-Oak Ridge Innovation Institute is designed to bring together the best scientists and researchers from around the world to tackle the world's most pressing challenges and prepare the next generation of great scientists and problem solvers.​"
Donde Plowman
University of Tennessee, Knoxville, Chancellor
Funding
In April 2022, the Tennessee General Assembly voted to include $72 million for UT-ORII in its FY 2022-2023 state budget. This contribution completes the state's $80 million commitment to UT-ORII eight years ahead of schedule. State legislators funded $8 million of that pledge in the 2021 budget.
UT-ORII's initial funding came through the DOE of Energy Efficiency & Renewable Energy with a five-year, $20 million grant that started in 2020. UT contributes another $16.8 million in cost sharing for that DOE funding and the University of Tennessee System has pledged an additional $20 million. These generous investments are helping UT-ORII fast-track its efforts and leverage new federal, university and industry opportunities.
UT-ORII: A Partnership between ORNL and UT
Oak Ridge National Laboratory
The U.S. Department of Energy's Oak Ridge National Laboratory is the nation's largest multiprogram science and technology laboratory. Since its establishment in 1943, ORNL has been delivering scientific discoveries and technical breakthroughs needed to realize solutions in energy and national security and provide economic benefit to the nation. More than 6,000 employees representing 60+ nations apply unique facilities, sophisticated tools and signature strengths in neutron science, high-performance computing, advanced materials, biology and environmental science, clean energy, fission and fusion science and engineering, isotopes and national security research to benefit science and society. In addition, ORNL's wide range of partnerships with other DOE laboratories and programs, universities and industry have enabled outstanding contributions to science.
University of Tennessee System
UT is a statewide system of higher education with campuses in Knoxville, Chattanooga, Pulaski and Martin; the Health Science Center at Memphis; and the statewide Institute of Agriculture and Institute for Public Service. UT educates a combined 54,000 students each year. UT is ORNL's largest research partner and since 2000 has partnered with Battelle Memorial Institute to manage the national lab. The program was formed as a 50-50 limited liability partnership, and UT-Battelle is the legal entity responsible for delivering DOE's research mission at ORNL. Both UT and Battelle are committed to serving the DOE by enhancing ORNL's leadership in scientific research, laboratory operations and community service.
University of Tennessee, Knoxville

Established in 1794, UT Knoxville is Tennessee's flagship land grant university and premier public research institution. It is classified by the Carnegie Commission as a research university with very high research activity (RU/VH). For more than 225 years, Volunteers have been lighting the way for others across Tennessee and throughout the world. UT Knoxville, which includes the UT Space Institute and the UT Institute of Agriculture, serves the state by educating its citizens, enhancing its culture and making a difference in people's lives through research and service.
About the University of Tennessee at Chattanooga
About the University of Tennessee Health Science Center
About the University of Tennessee at Martin
Contact

UT-Oak Ridge Innovation Institute
c/o Oak Ridge National Laboratory
P.O. Box 2008, MS6173
Oak Ridge, Tennessee 37931-6173

Email: utorii@tennessee.edu
Phone: (865) 341-6744