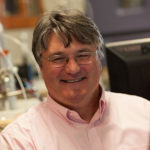 Thomas Zawodzinski
Electrical Energy Conversion and Storage
Appointed 2009
Thomas Zawodzinski focuses on ways to advance the technology and materials used in batteries and fuel cells.
His research includes metal air batteries, redox flow batteries, fuel cells, and membranes.
Zawodzinski serves in the Department of Chemical and Biomolecular Engineering at UT and in the Division of Materials Science and Technology at Oak Ridge National Laboratory.
He also sits on the International Advisory Board for the Journal of Power Sources.