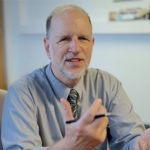 Robert Williams
Computational Genomics
Appointed 2009
Robert (Rob) W. Williams received a BA in neuroscience from UC Santa Cruz (1975) and a Ph.D. in physiology at UC Davis with Leo M. Chalupa (1983). He did postdoctoral work in developmental neurobiology at Yale with Pasko Rakic and moved to the University of Tennessee in 1989.
He is chair of the Department of Genetics, Genomics and Informatics and holds the UT Oak Ridge National Laboratory Governor's Chair in Computational Genomics. He was president of the International Society for Behavioral and Neural Genetics and is founding director of the Complex Trait Community (www.complextrait.org). He was editor-in-chief of Frontiers in Neurogenomics for over a decade, and serves on the editorial boards of Genes, Brain & Behavior, EBM, Neuroinformatics, Mammalian Genome, Molecular Vision, Alcohol, BiomedCentral Neuroscience, the Journal of Biomedical Discovery and Collaboration, and Behavior Genetics.
One of Williams' more notable contributions is in the field of systems genetics and expression genetics. He and his research group have built GeneNetwork (www.genenetwork.org), an online resource and suite of phenotype and genotype data and analysis code that is used widely by the genetics and molecular biology communities.
Email
UTHSC rwilliams@uthsc.edu
Phone
901-604-4752
407 TRANSLATIONAL RESEARCH BUILDING
71 SOUTH MANASSAS
MEMPHIS, TN 38163