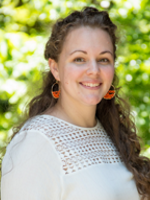 Annamarie Russell
Operations Coordinator, UT-ORII
Annamarie Russell serves as the Operations Coordinator for UT-ORII. Russell has functional responsibilities in human resources, business administration, and event coordination.
Before joining UT-ORII, Russell worked for six years for the University Libraries, most recently as the Special Events and Donor Experience Coordinator. Prior to working at UT, Russell was at the University of Virginia's College at Wise where she was a Community Coordinator for three years.
Annamarie is from Alcoa, Tennessee. She attended Roane State Community College where she played for the Raiders Softball team and completed an A.S. in Biology. Russell then transferred to Virginia Intermont College in Bristol, VA and completed a B.S. in Biology, concentration in Environmental Science. During her free time Annamarie enjoys spending time with her husband and two daughters, traveling, and being outdoors.